Asahi Kasei Automotive Europe
Discover Asahi Kasei's cross-divisional expertise
A concept car, engineering plastics, particle foams and cellulose-based fillers: Asahi Kasei presented its diversified material solutions
Asahi Kasei Automotive Europe
Creating For Tomorrow
AZP™ – a new transparent polymer that overcomes the disadvantages of conventional plastic materials with premium quality appearance
Asahi Kasei at K 2022
Diversified Material Solutions for a More Sustainable and Comfortable Mobility
At the K 2022 – the world's No. 1 trade fare for plastics and rubber – Asahi Kasei presented its concept car AKXY2 for the first time in Europe. Utilizing a broad variety of materials and technologies, the vehicle showcases the company's cross-divisional expertise throughout the entire value chain. Other highlights at the booth were innovative particle foams, bio-based filler materials, and engineering plastics.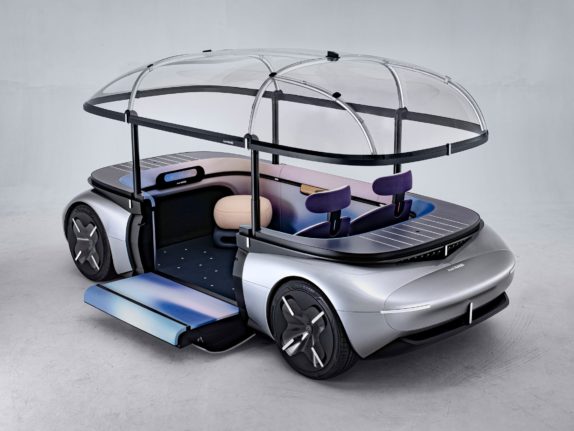 Asahi Kasei's concept car AKXY2

AKXY2 made its debut on May 25, 2022, in line with Asahi Kasei's 100th anniversary. It demonstrates how the company applies expertise throughout the entire value chain, from raw materials and production technologies to the usage of recycled and recyclable materials. Virtually everything that can been seen, touched or felt in the vehicle is either manufactured or co-developed by Asahi Kasei. The car features technology that touches the senses, improves safety and ensures the highest functionality while proposing solutions to reduce the environmental impact of automobiles.
AKXY2 at K 2022
All windows of AKXY2 are made of outsourced hard-coated polycarbonate through a manufacturing method developed by Asahi Kasei in 2002 that uses CO2 as a raw material for its production. Today, 15% of the global polycarbonate production uses this production technology. To enable polycarbonate for applications in automotive windshields, Asahi Kasei is currently developing a hard-coating technology that equips polycarbonate with a UN ECE R43 compliant resistance to abrasion and weatherability. Replacing glass with this polycarbonate will significantly reduce vehicle weight and extend EV driving range.
The interior surfaces are covered by Dinamica® – a premium microfiber resembling suede partially made of recycled polyester – manufactured by Miko, an Italian subsidiary of Asahi Kasei Group company Sage Automotive Interiors. Sage Automotive Interiors also provides other more sustainable fabrics utilizing raw materials that range from recycled PET, bio-based PET, natural blends, and ocean waste. All fabrics can be made anti-viral and anti-bacterial, as well as fluid-repellent and stain-resistant.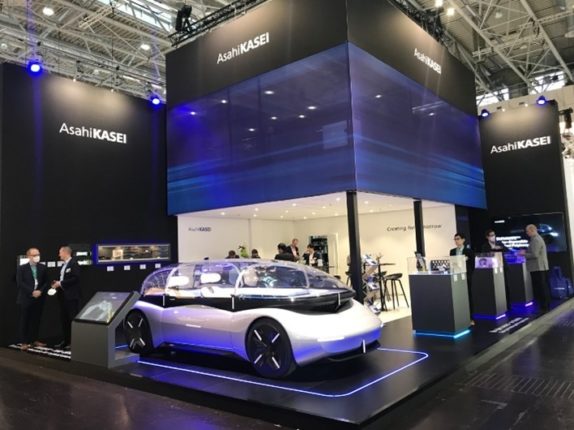 Innovative Optical Polymer and Particle Foam Solutions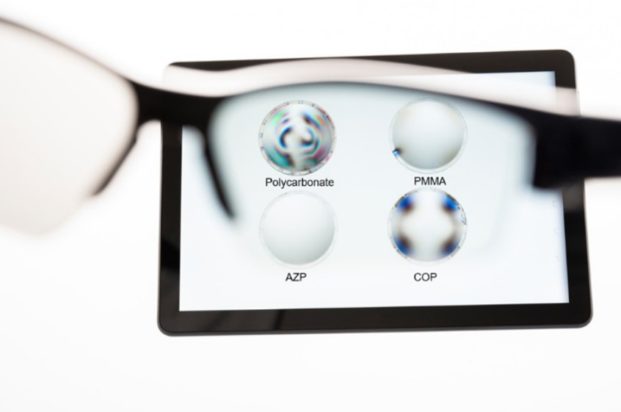 Transparent polymer for glass replacement

AZP™ is a new transparent polymer that overcomes the disadvantages of conventional plastic materials traditionally used in displays. Featuring a close-to-zero birefringence equivalent to glass as well as a superior designability, this material allows high transmittance and low-color distortions at all viewing angles. The premium quality appearance is also maintained when looking at the display through polarized sunglasses. Clear images without whitish or blurring can be achieved in polarized optical equipment such as AR/VR headsets and HUDs.
2170 round cell tray made of SunForce™ BE
The particle foam SunForce™ BE is based on modified polyphenylene ether (mPPE) and features an unmatched combination of lightweight, UL94 V-0 flame retardance, thin-wall moldability, thermal insulation and processability. At K 2022, Asahi Kasei displayed 4680 and 2170 round cell holders and cell trays made of this material. In this application the material allows for the precise fixation and alignment of round cells without the use of any adhesives. The material is also suitable for battery pack applications for any other kind of cell design like pouch-cells and prismatic cells.
Mono-material composite sample with SunForce™ AS core and PA6 shell
The particle foam SunForce™ AS is based on polyamide and features the typical properties of this engineering polymer. Its high stiffness and strength make it an ideal material for metal replacement in structural automotive components. This type also has the highest chemical and heat resistant properties in the product family. At K 2022, Asahi Kasei presented mono-material composite solutions utilizing SunForce™ AS as core material and PA6 on the outside.
Cellulose-Based Materials and Next-Generation Engineering Plastics
Filament and 3D-printed sample made of PA/CNF
Asahi Kasei's expertise in the field of cellulose goes back 100 years to when it first started the production of rayon fiber. The company is now adapting this know-how to other application fields and developing a cellulose-based nanofiber filler material (CNF). Featuring a substantially higher purity than conventional wood-based cellulose, CNF is derived from cotton-linter, a byproduct of cotton yield.
As a recyclable alternative to glass fiber, CNF can be used in engineering plastics like polyamide 6, polyamide 66 and polyacetal with a ratio of up to 20wt%. CNF significantly enhances the sliding properties of the composite part, making it suitable for applications in automotive sunroofs, window lifters, seats, or gear parts.
Base station RF filter made of modified PPE resin XYRON™
As a leading Japanese manufacturer of high-performance engineering plastics, Asahi Kasei also displayed the modified polyphenylene ether XYRON™ for 5G applications. The combination of PPE with other polymers such as polyphenylene sulfide (PPS) or polystyrene (PS) allows this family of high-performance compounds to feature a broad range of properties, exceeding those of conventional materials used for telecommunication applications. Certified with V0 according to UL94 by using halogen-free flame retardants the material features a low dielectric constant and dissipation factor in order to ease the transmission of radio waves. Thus, XYRON can improve the efficiency of high-frequency communication in various applications.
Automotive Innovations for the Industry